Tours on Missouri Fox Trotters
3 DAY 2 NIGHT PACKAGE FOR TWO:


Includes lodging for you and your companion in a comfortable private cabin, fine Missouri Fox Trotters, picnic lunches and guide. You'll follow the Meramec through fields of cattle, over high ridges with sweeping vistas, and into deep shaded woods.

Package for 2-450 usd.
For each additional rider add 160 usd




5 DAY WEEK PACKAGE:

Includes lodging in private cabin Sun.-Thurs.
You have a choice of 4
days of riding and one day of floating the
Meramec or 5 days of riding. Each day covers
different territory "Across Missouri" with picnics
in scenic locations.

Package (based on double occupancy):450 usd per person


8 DAY 7 NIGHT DELUXE SPRING OR FALL RIDE 2002:

On April 7-14, 21-28 and May 5-12, September 22-29 and October 6-13, 20-27th. (2002)
Meramec Farm offers splendid riding tours during
the prettiest seasons in Missouri!
The Fox Trotters smooth out the rough spots as you ride over 100 miles this week. Towering bluffs, river crossings, wooded trails, back roads, open fields and cattle pastures keep the scenery varied and the riding interesting.
Each day's ride ends with dinner waiting at one of the comfortable farms, cottages and B&Bs along the way.
ALL MEALS are included,luggage is transferred. Onondaga Cave is one of our picnic stops with time for a tour. A special treat after riding one day is a sunset wagon ride across our host's ranch behind the "Big Girls". A ranch Bar-B-Q will ice the cake.

Winery tours and a canoe or raft trip down the Meramec are afternoon options on two days.

Cost per person: 1195 usd
(based on double occupancy).
Airport transfers from Lambert Field St.Louis 50usd.


**Guests of Meramec Farm may arrange for shorter rides by the hour or day. Current rates: 20 usd per hour per horse guiding included, 70 usd for 4 hour trip.**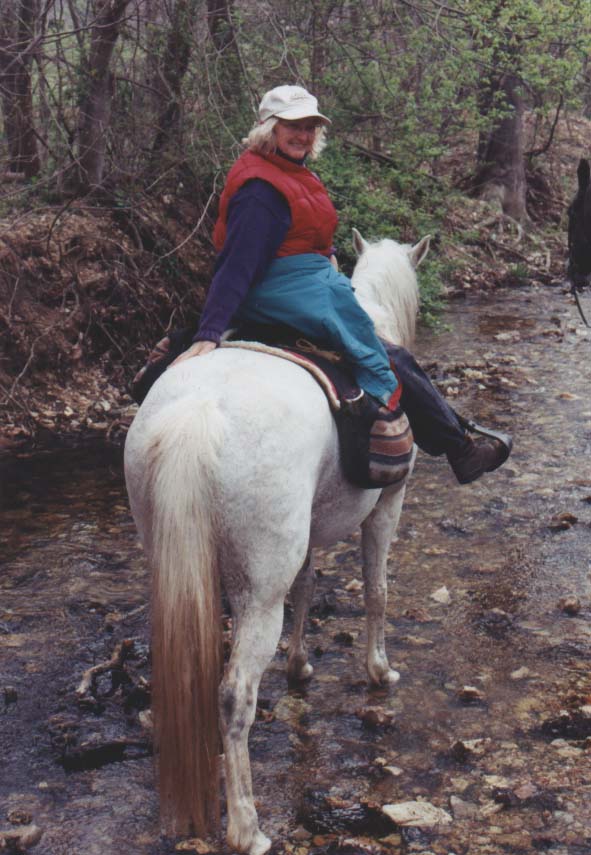 Bring Your Own Horse

Horse owners are invited to join our tours. We provide lodging, picnic lunches,and a guide, stalls or pens for your horses.


Rates are 40 usd less per day if you bring your own horse.

Please visit our BRING YOUR OWN HORSE page for more details.
Meramec Farm

208 Thickety Ford Road
Bourbon, Missouri 65441

Phone: 1-573-732-4765
Email:
mfarmbnb@fidnet.com
Website:
www.wine-mo.com/meramec.html